Kennels and Runs
All our dogs runs are extra large being a minimum of 16ft x 5ft, this does not include the heated sleeping area. This is more than twice the council recommended size but we feel that the dog's comfort and welfare are more important than minimum guidelines. Please remember to ask the size of other kennels when deciding where to leave your dog.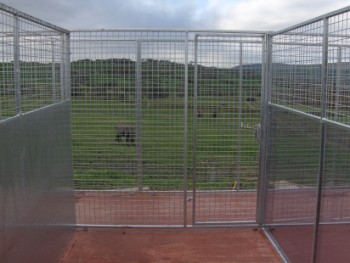 Floodlit Indoor Arena
We understand some dogs dont always like long walks during the colder months and our indoor arena provides a great place for your dog to run and investigate in its own time.
Large Outdoor Arena
Our large 120ft x 60ft outdoor arena is where our guests can really stretch their legs. The dogs love being outside and this area gives them a great place to investigate and play.
Dog Agility Club
If you have an active dog and want to put him through his paces then look no further. Our dog agility club has tunnels, jumps, see saws and many more. Please call for further details even if your dog is not staying with us.
Kennel Views
All our kennels have views looking out from their kennels and not obstructed by walls or fences and over half have superb views over the fields and can even see Pendle Hill. Again we would encourage you to ask this when deciding on a kennel for your dog.
Cattery
We dont forget our feline friends amongst all our facilities, we provide extra large runs with scratch posts and a fully heated sleeping area. All runs are 11ft long and we have a host of activities to keep your cats content.
Vet on Call
For peace of mind while you are away, you can rest assured we have a vet on call 24 hours a day by special arrangement. We also accommodate any medication requirement your pet may require with the upmost care and attention.